Black cladding: project inspiration
We are continuing to see a trend for black or dark coated cladding, with our Architect Liaison and Cladding Sales teams reporting high numbers of enquiries for this look. From traditional cottages to modern tower blocks, the variety of aesthetics you can achieve is endless. In this blog we show some examples of the innovative and interesting ways black coated cladding has been used.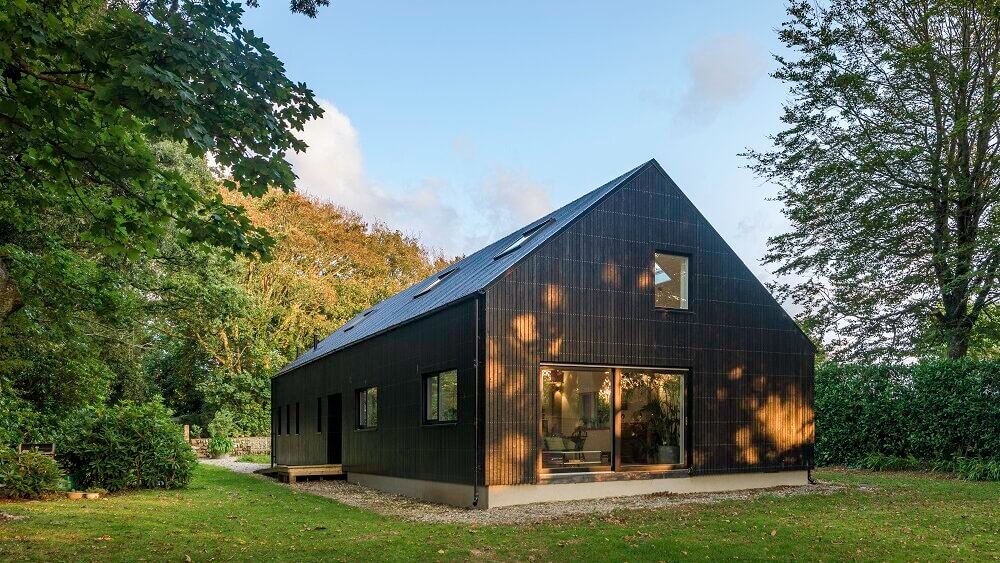 Russwood Thermopine® is the ideal substrate for black or dark painted finishes. The thermally treated Scots Pine is modified using only heat, steam and pressure; no chemicals are used. This process enhances the timber's stability and durability, resulting in less substrate movement, which in turn makes Thermopine® optimal for factory coating. Paint coatings can last up to three times longer on Thermopine® when compared to non-modified timbers, substantially reducing the maintenance requirement.
Nestled in the woods
Kast Architects specified Russwood's black coated Thermopine® in an open jointed arrangement for this project in Cornwall. The small section sizes here have been put to great effect, giving detail and interest to the otherwise flat and undisturbed expanses of the facades. Precise placement of fixings creates a striking contrast of steel on black, adding further detail to the outer shell of the building, and demonstrating the care that has been taken in the final finishing of the property to a high standard.
Traditional with a twist
Loader Monteith Architects specified Thermopine® RW014 for this beautiful cottage extension in the Scottish Highlands, the black coated cladding creating a striking contrast with the original stone cottage. The timber in this project was brushed; a process in which the softer springwood is pulled out by wire brushes, accentuating the timber's natural grain and features.
The countryside in the city
This refurbishment and extension to a working community farm and education charity in London is another great example of black cladding being used to stunning effect. Surrey Docks Farm, a project by PUP Architects, uses a vertical board on board arrangement of Thermopine® with the width of the boards increasing towards the top of the building. The boards are factory coated in Ebony FI046.
The devil is in the detail(ing)
Correct fixings are vital to timber's performance, durability, and appearance. Russwood recommend L-GoFix® MS Screws; a black screw in A2 grade stainless steel with additional SC9® coating, ideal for use with black cladding. Alternatively, we offer Secret Fix Cladding solutions, using the FassadenClip, an innovative alternative to face fixings. By secret fixing, the front faces of the cladding boards are left intact, which enhances longevity of a coated finish.
If you would like to speak to one of our cladding experts, please do not hesitate to get in touch.