Everything you need to know about Siberian Larch cladding
Russwood have 30 years' experience in the timber industry, manufacturing premium quality timber cladding to each client's specification from our modern production facility in Newtonmore. We pride ourselves on our reputation for quality products and excellent technical expertise. In this blog, Michael Russell, Russwood's Sales & Project Development Manager, explains everything you need to know about Siberian Larch cladding, our most popular timber cladding species.
SILA Select® (Russwood's grade of Siberian Larch cladding) has to be one of the most versatile cladding options on the market. Suitable for most cladding applications, and with excellent natural durability properties as well as attractive figuring, it's no wonder so many architects, contractors and self-builders specify SILA Select® for their projects. I've tried to answer some of the more commonly asked questions about Siberian Larch cladding in this blog and hope that it will be of some assistance if you are considering using it for your next project.
What's the difference between Siberian Larch and Scottish Larch cladding?
Russwood manufacture and supply cladding in both Siberian Larch (SILA Select®) and Scottish-grown Larch (Scotlarch®). While both belong to the same Larix genus, they are different species with their own distinct properties. Our Siberian Larch cladding is sourced from forests in Siberia before being imported into the UK, while most of our Scotlarch® comes from within 100 miles of our sawmill in the Scottish Highlands. The milder climate of Scotland means that Scotlarch® is faster grown than Siberian Larch. The slower growth of Siberian Larch results in tighter growth rings and a higher proportion of late wood, generally providing superior dimensionally stability, higher density of wood tissue, which means improved texture for consistent machining. In terms of appearance, Scotlarch® with its frequent and larger knots and open-grain can be described as having a characterful, rustic look. SILA Select® has a more contemporary look with minimal, smaller knots and often has flame-like figuring of the springwood/summerwood.
Does Siberian Larch cladding turn silver?
In its natural state, Siberian Larch heartwood will be a warm mix of colours from light reddish-brown through to golden browns. Like all timber, if left uncoated it will eventually 'weather' or turn silver when exposed to the elements, however the location and design of the building will affect how quickly and evenly this will happen. If even weathering is a concern, I'd recommend having your cladding factory-coated with SiOO:X, this will give the timber a consistently weathered appearance at an accelerated rate. SiOO:X is available in Original (clear) as well as two pigmented versions, Light Grey and Mid Grey (my favourite!) and can be applied at our in-house coating facility to ISO9001 quality assurance standards.
Which profile is best for Siberian Larch cladding?
This is really a matter of personal choice; it all depends on the end look you are trying to achieve. For a modern, refined look, I personally like RW014. Fix it horizontally, vertically or a combination of both to create some interest over a large façade, like this project at Quarry road. Widths such as 68mm or 95mm offer a really contemporary look as well as superior performance through increased dimensional stability, or you could mix things up with a variety of widths for a really on-trend look. The rhomboid shape of RW014 allows for enhanced ventilation (particularly when used with FassadenClip®) as air is able to circulate around the whole cladding board, allowing the timber to fully dry out between wetting cycles and maximizing the chance of consistent weathering. For a more traditional tongue and groove cladding, we offer RW006 (face-fix) and RW119 (secret fix) as stock items, available off the shelf on a short lead time. We also offer various planed all round, skimmed and Microtex® sizes, all of which are ideal for "board-on-board", or "open-jointed" arrangement.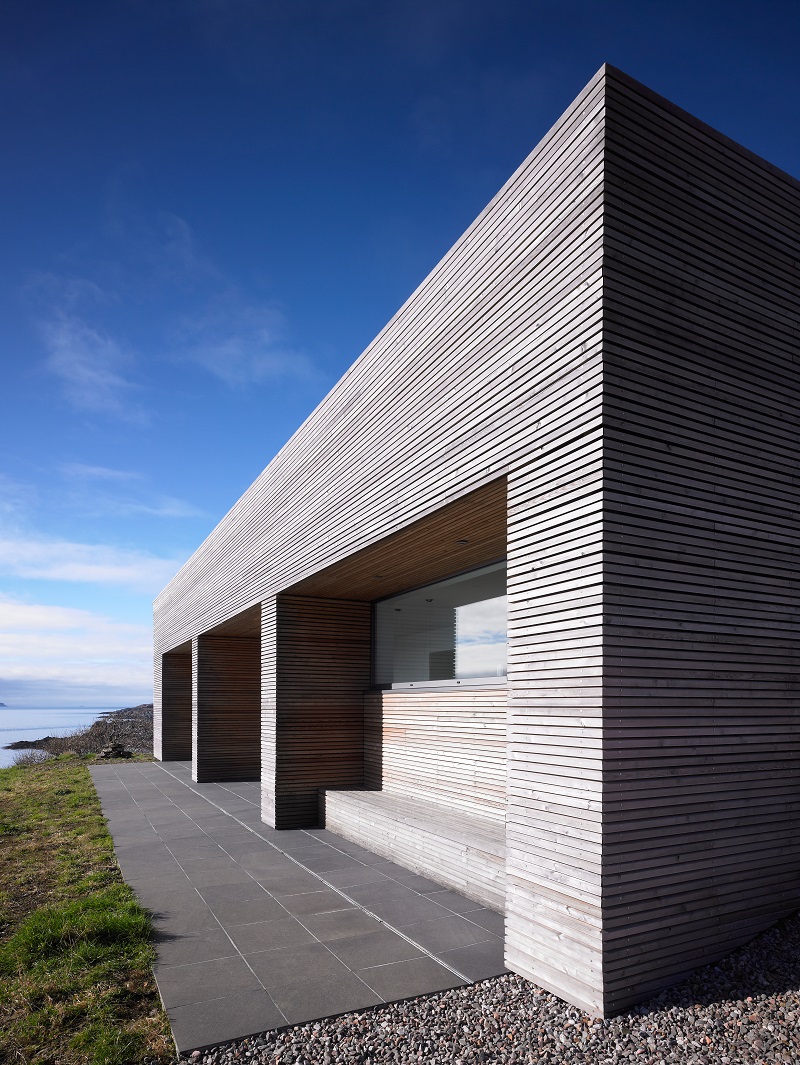 Is Siberian Larch cladding sustainable?
Yes absolutely – I can't put it much better than Wood for Good, the timber industry's campaign to promote the use of wood in design and construction. They explain that "Using wood instead of other materials saves CO2 emissions, both through the carbon captured and stored in the wood product and the avoidance of alternative CO2-intensive materials." You can also be sure that our Siberian Larch (along with all our timber) has been sustainably sourced from well managed forests. FSC® and PEFC certification guarantees responsible management of the forests from where the timber is sourced and ensures the chain of custody of our timber is controlled from the forest through to the final product use.
What's special about SILA Select®?
SILA Select® is Russwood's own grade of Siberian Larch cladding. We first select the highest grades available and then further re-grade in to our own specification, removing any boards with sapwood on the working face, over-sized knots, dead knots or damaged faces to ensure only the highest quality boards get through to the end customer.
The chemical make-up of the Siberian Larch heartwood creates a high resistance to decay and rot, making it one of the toughest and most durable softwoods there is. Our regrading process enhances this natural durability, meaning that no treatment of the timber is required and any coatings applied are for aesthetic purposes only.
If you are considering using Siberian Larch cladding, get in touch with one of our team and we'll only be too happy to discuss the best option for your project.
Products Used
SILA Select® Siberian Larch
SILA Select® Siberian Larch cladding is a popular choice due to its versatility & excellent durability.
View Product